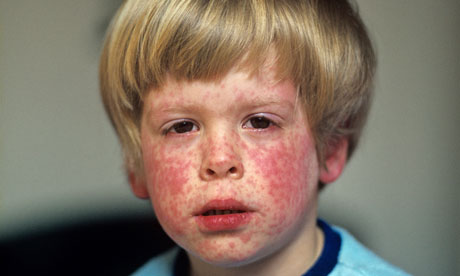 Or why social models of deafness, are a sham.... In the UK serious outbreaks of Rubella (Measles), prompted a string of media health warnings of the dire result to children who don't get vaccinated via MMR, and contract the disease. So far so good.
But look at the rhetroic of health awareness: "You can contract terrible illness and disabilities like deafness..." Be Born deaf yes, no-one challenges the statement, even if some can blame vaccination for Autism, the basics are 'medically sound'. Perhaps we should challenge the idea the world ends with deafness. Every health and other areas (Including charities), use deafness/blindness as a 'deterrent' to not getting the vaccine. Could this infer your parent is to blame for you being deaf via non take-up of a vaccine, so we go deaf, and our parents get it too ?
The medical facts may be indisputable, even an acceptance that some brain damage via vaccinations, is OK, is acceptable as 'collateral damage', nothing is 100% certain in medical terms, (tough if you are that collateral damage but...) Statistically 1-2% of those who do have vaccinations will get some side issue of brain damage and other issues, 2% is small, 98% are OK, but 2% of a million people is still a lot of people with an issue, that theoretically would not have had that issue without a vaccination, but the majority benefit..

I am concerned at the 'blame' aspect. Basically the whole image of deafness then becomes an medical thing we all could have avoided, despite the fact measles isn't a sole cause of all deafness, age is, even medically, the sentence itself is yet another downer on the fact someone is deaf, complete negativity on deaf people, based on a positive campaign for health ? Ying-Yang doesn't seem to be working here...
If they encourage deafness, isn't the be-all, or end-all of everything, are they frightened then they endorse non take-up of vaccination ? So they have to heap negativity on the deaf (And even the blind too ?), but hold on, blind near always get a sympathetic hearing (Pardon the awful pun/term there), don't they ?
Deaf don't, they get derision, annoyance, poor support, poor access, and all sorts of 'blame' for not being able to follow things. Blindness seperates people from 'things', deafness, seperates people from other people, and from a basic awareness too. How do we equate health alerts with the negative feedback it generates at our deaf and disabled areas ? We cannot oppose in all fairness, vaccinations, it saves lives, protects our children, we use vaccinations that can prevent deafness ourselves......so must we accept the negativity too ?
Countering the rhetoric of fear and awfulness of being deaf is a problem. If we oppose medical rhetoric that negatively idenitifies deaf people, would we not be seen opposing good health in others.... This is a poor situation we are put in, damned if we object, damned if we don't speak out for ourselves.
It makes social modelling very academic.....