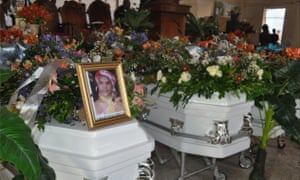 Hard to believe such ignorance exists in the 21stc..... On Saturday 11 June government ministers and campaigners attended the funeral of three female street vendors, laid to rest in sturdy white coffins laden with flowers, with more than 2,000 people in attendance. Their brutal murders had shocked a country.
Jesula Gelin, a mother of six, Vanessa Previl and Monique Vincent were all deaf and worked in Haiti's capital. That is itself was notable – they were economically independent and lived away from their families in a deaf community in Leveque, a village about an hour from the city.
On 18 March they had spent the morning in Port-au-Prince buying business supplies and visiting their families. They set off home in the early afternoon, leaving plenty of time to get back before dark on a normal day. However, a bridge had collapsed on Route Nine, one of the main thoroughfares, bringing traffic to a standstill. "It was on the radio, TV, so everybody knew to avoid those areas," says Nicole Phillips, a lawyer who is representing the women's families. "But if you're deaf, you're not going to benefit from any of that. They had no idea that the bridge had collapsed."
The women had been travelling on a tap tap – the privately run Jeeps that are the equivalent of buses in Haiti. But at some point, in the heavily congested traffic, they got off the tap tap to continue their journey on foot. "They got exhausted," says Phillips. "And then late at night, we don't know what time, they stopped off in one of the victim's relative's house.
The house was owned by a distant relative. "She had been there before, by car it's just 20 minutes from where she lives," says Phillips. "She and the two other ladies went there to spend the night."
Reports of what happened next are from two women who have been arrested in connection with the triple murder. They lived at the house and say that when the three deaf women arrived they were frightened and thought that they were lougawou. In Haitian mythology, lougawou or lougarou are evil spirits who come out at night and cause mischief such as killing your goats or eating your dog. They are something to be feared. Disabled people are sometimes labelled bad spirits.