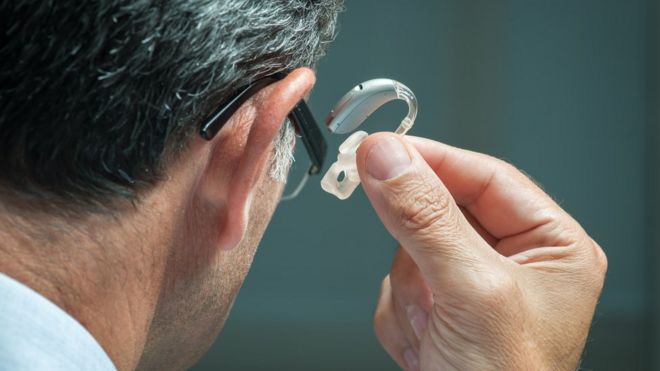 More should be done to help deaf people into work in Wales, a charity has said. AOHL Cymru said its south east Wales support service is one-of-a-kind with nothing similar elsewhere in Wales. It said "demand outweighs supply" for its two advisers and the referral process is "problematic".
The Department for Work and Pensions (DWP) said it had a number of relevant "tailored" services and funded others which needed extra help. There are estimates 4% of the Welsh workforce - about 84,000 people - are deaf or wear hearing aids. The charity's employment service, which is funded by the DWP, has run for two years and received 29 referrals.
It has now been extended until December. The charity told the Eye on Wales programme it had been "overwhelmed with demand" and, without it, there would be "no support for deaf people looking for work in Wales". Richard Williams, director of the charity in Wales, said: "Demand is far outweighing supply and our two advisors are currently only able to support clients in the south east Wales area. No support is available throughout the rest of Wales for deaf clients.
ATR Cymru:
"
The root of the issue is with employers, poor awareness combined with a sheer reluctance to hire deaf or any other disabled area that it perceives needs 'support' means they kill off job applications at CV stage. The equal access law is unenforceable and needs teeth. What we need is leadership from the welsh assembly to identify employers and practices that are preventing deaf or HoH getting a job.
There also needs to be a shake up of deaf education to reflect the needs of the employers. Communication is massively misunderstood, and they aren't getting any work experience to give them a way in. Interpreter support alone e.g. can kill off a job application. Simply because employers assume a deaf or HoH person cannot function alone or effectively without them.
The state also cuts (Via the DWP!), financial support to pay for the help they need. It does seem hypocritical the charity is working with and being funded by one the agencies preventing the deaf and HoH from working. It would appear the DWP is offering a bit of funding and some obscure 'tailored' and ineffective services, so they can excuse the fact they are actually preventing support in the workplace being aired by removing the means to maintain their support to work. Without support for adaptations and assistive technology, a job cannot be maintained, and employers insist THEY, are not going to pay for it.
At present there is some 8-12 week turnover period that suggest work training takes place, but no jobs ever come from them, and employers use the time scale to rotate potential employees (none of whom get a wage), who want experience, it's a cruel conveyor belt with no chance of a job in sight, that keeps the DWP happy, the job centre happy because the deaf or HoH 'appear' to be working on the statistics. 14 people a year getting this DWP/AOHL support? we don't get a statistic that says they actually got a JOB from it.
ATR attended an AOHL gig at Cardiff where the charity itself was under attack for its work support system from a very angry father. The whole set up is a ploy basically an attempt to suggest something that wasn't actually happening. Why are charities doing job centre work anyway ? and why are the DWP funding it, ? we all KNOW why !
We may well have to revert to the old system of protective work placement along the lines of Remploy etc, unless we can force equality into the job area properly, if we don't, yet another generation of deaf and HoH will be languishing on the dole, and being attacked for it too. The catch 22, is if protected employment takes place, we will be admitting the employer discrimination has defeated the equality act, and then we are out of the real workplace effectively, and with little or no choices at all what job we do. heads discriminators win, tails we lose.
"