One hopes ENGLISH alphabet finger-spell signing (BSL A-Z), are NOT used, as welsh alphabet has different letters, such as FF, CH, LL, ng etc... AND a different grammar form !

There are concerns it is a simplistic translation approach from the English... that actually ignores welsh. So are they teaching BSL ? or Welsh signs via language and grammar ? Recognizing the 43% differences between regional BSL. And, has Wales sufficient welsh interpreters or teachers ?

One issue identified is the almost total lack of deaf welsh with knowledge of Welsh, or Welsh signs..... Ooops !
A new project has been launched which aims to teach sign language to young children through the medium of Welsh. The scheme, run by Mudiad Meithrin and funded by Bangor University, is the first to teach British Sign Language (BSL) through Welsh rather than English.
It will introduce one word per week in Welsh and BSL which will be shown to as many as 12,500 children under four. The Welsh Government said 85% of deaf children do not have special care.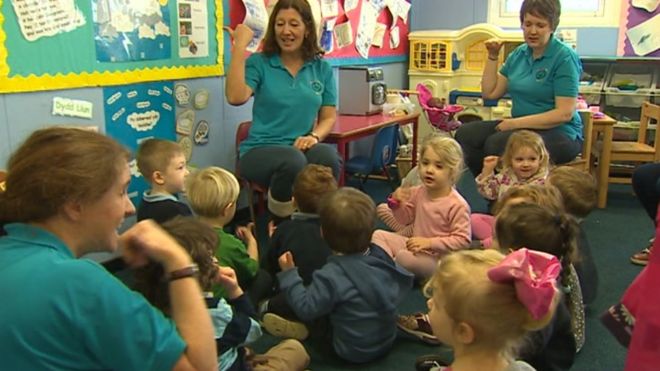 Sign-language costs are 'too-high' for some families. The programme, with support from Bangor University's Widening Access Centre, also aims to make signing in Welsh a "modern" language on the Welsh Joint Education Committee's GCSE, AS and A2 syllabus.
However, there are concerns over the number of qualified deaf-signing teachers and that 85% of the 3,272 deaf children in mainstream schools do not have special educational provisions available to them.
Delyth Murphy, director of the university's Widening Access Centre, said it was a "privilege" to be involved in the "unique ground-breaking project".