Friday, 3 August 2018
Not just sign fluent, but highly educated and literate too... so why paint them into a signing corner?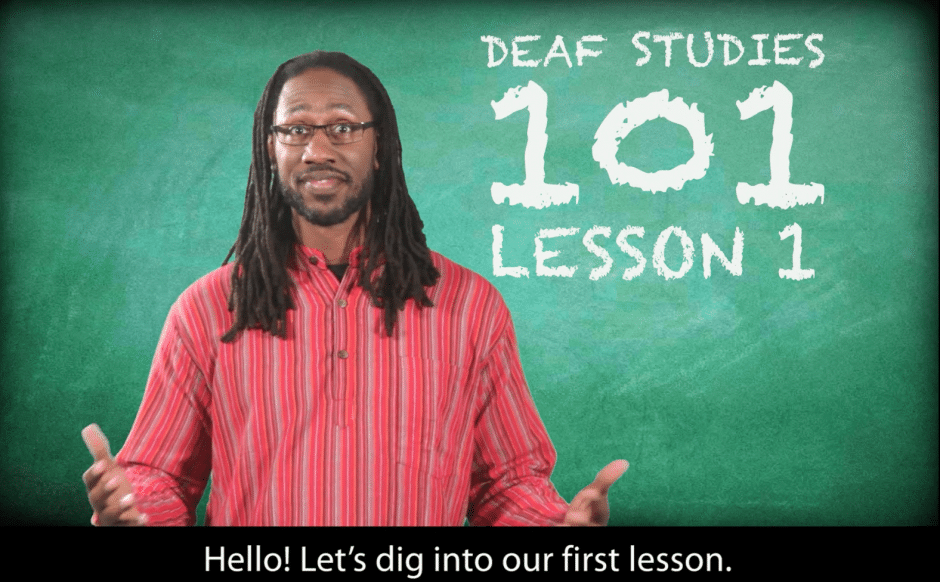 The answer lies in deaf people being literate surely? It is unrealistic to expect to see all health information accessible in ASL, the resources aren't there.
It would also help if 'ASL Researchers' stopped using the 'Deaf' label as a blanket term, to the wider public as this suggests deaf who DO NOT SIGN need ASL too, (Already a major issue in the UK where they are challenging BSL campaigns to health areas as actively denying others access). Deaf.Read knows, mainstream doesn't.
Will ASL readers here be able to read of the research? They could be talking over their heads. Contrary to popular deaf communal view, mainstream hearing still don't know one deaf person from another, or one person's communication needs from another. 'All deaf sign' doesn't help, and it is misleading too. These are the people online refusing captioned access to own output.
The article suggests clearly these ASL deaf are not bilingual as they claim to be, or English would not be an issue, or reading.... If they tried the same thing in the UK it would not work, non-signing deaf oral deaf and others who use alternatives to sign would complain about their needs are being ignored. The continued singular plugs for sign-only based systems ignore most deaf people's basic access requirements. Its widespread abuse of hearing loss statistics, and blurring of definitions is a scandal.
What they need is not cultural interference in medical issues they aren't qualified to consult with, but to up their game in widening their literacy, not trying to create alternatives, where the mass support they will need to use it, doesn't exist..
The Article:
This researchers' 40-minute training video aims to help health researchers conduct informed consent with Deaf research participants.
New research aims to tackle a significant problem: low levels of health literacy within the Deaf community. The collaboration includes Tim Riker, a lecturer of American Sign Language at Brown University's Center for Language Studies, clinicians and researchers, and group of Deaf community advisors who advise on how best to meet the needs of their peers. "The objective is to understand the social, political, and historical experience of Deaf people and to transform health research in order to improve population health," Riker says.
Members of the Deaf community, comprising about 500,000 individuals who communicate using American Sign Language, have historically experienced mistreatment in the research world, according to Riker and his colleagues. "In the past, non-deaf people would lead research without the Deaf community being involved."
The team conducted focus groups and community forums with Deaf people to collect information on how hearing researchers can do a better job of including Deaf people in biomedical research, says Melissa L. Anderson, assistant professor of psychiatry at the University of Massachusetts Medical School, who led the collaboration. From there, they developed and tested a new research methodology, which they outline in a recent commentary in the journal Qualitative Health Research. Cracking the code on effective qualitative research within the Deaf community could help address a range of health issues, Riker and Anderson say.
"What's innovative about the research team's method is we used technology to collect and analyze visual qualitative data directly in sign language," Riker says. Traditionally those data have been translated into spoken English and transcribed into written English for analysis by hearing, non-signers. "Mental illnesses, addiction, and trauma within the Deaf community are higher than among the general population," Riker says.
"Rates of obesity, diabetes, suicide, domestic violence, and sexual or intimate partner violence are also higher, along with other types of health disparities." Causes of health disparities While reduced health literacy and its negative health outcomes arise in part from reduced incidental learning—for example, through overhearing and understanding conversations or spoken health information disseminated by radio or televised public service announcements—Deaf sign language users also often miss the chance to engage with health providers and health researchers, Riker says.
"As a hearing researcher within the Deaf community, I have to be aware of my limitations." Some methods of data collection, like telephone surveys, are inaccessible to some sign language users, and health researchers often do not include the interpreters and video technology necessary to interview Deaf subjects as they plan their research, Riker says. Written materials can also be problematic, according to Riker and his colleagues. Median English reading level among the Deaf population falls at approximately the fourth-grade level.
Posted by

MM
at Friday, August 03, 2018
No comments:

Recent online claims that the UK government was considering BSL curriculum has proven to be false despite deaf online claims and campaigns, and charities publishing false statistics of actual deaf children in education, whilst failing to identify those using/needing sign language. Find Below the official UK government position on the BSL demands...
Nick Gibb Minister of State (Education).
There are no plans to introduce any new GCSEs in this Parliament, to allow schools a period of stability following the recent reforms. However, the Government is open to considering a proposal for a British Sign Language (BSL) GCSE for possible introduction in the longer term. We have indicated this to Signature, the awarding organisation proposing to develop a GCSE in BSL, and the National Deaf Children's Society.
Any new GCSE would need to meet the rigorous expectations for subject content, which are set by the Department for Education. It would also need to meet the expectations for assessment and regulatory requirements, which are set by Ofqual, the independent qualifications regulator. The Department and Ofqual will consider carefully any proposals put forward in due course.
Mr Gibb also attended a debate in Westminster Hall on March 5th where he said
Nick Gibb Minister of State (Education).
As I said, we value BSL. However, a huge number of steps would have to be gone through for the BSL qualification to be accredited as a GCSE. Having been through it, I can say that it is not a simple process to get qualifications accredited. There are existing level 2 qualifications; GCSEs are level 2. There are existing BSL qualifications of high quality available that can be taught in schools. BSL is not a GCSE subject, but as I said, many subjects taught in schools are not GCSE subjects and none the less are valued by schools and by those who take the qualifications.
We recognise that some who wish to take a qualification in BSL will do so to communicate with a family member or friend. Indeed, many of those in most need are hearing parents of deaf children. We understand that early access to language is essential to help children to learn and thrive and it is vital that families have the support that they need to communicate with their children. The Department has provided funding for the development of a support guide to help parents of deaf children. Families or carers may also be eligible for support to learn sign language. The Department has provided funding for the I-Sign project to develop a family sign language programme, which is available online.
We believe that all young people should be helped to achieve their potential, regardless of their background or circumstances. More than 21,000 children with a hearing impairment are supported at school.
We are proud that 93% of hearing-impaired children are supported to attend a mainstream school. Pupils who use sign language are generally provided with support at school through specialist teaching assistants and specialist teachers of the deaf. However, we do not prescribe how schools should support pupils with a hearing impairment.
We have made it clear in the special educational needs and disability code of practice that all schools must use their best endeavours to make suitable provision available for all children of school age with special educational needs or disabilities. The reasonable adjustments duty for schools and local authorities includes a duty to provide supporting aids and services for disabled pupils. That could include things such as radio aids or communication support workers. In addition, the local authority can support parents and children in developing the knowledge that they need to communicate effectively.
When the time comes for pupils to take examinations, schools and colleges are responsible for ensuring that reasonable adjustments are made for pupils to make exams more accessible. Common arrangements include extra time and the use of scribes and readers and of word processors. More deaf children than ever are leaving school with good GCSEs, and we want them to continue to aspire to reach their full potential. Statistics show that attainment in English and maths for that group has been improving in recent years. The proportion of children with a hearing impairment achieving a standard pass—at grade 4 or above—in English and maths GCSE has increased by 6 percentage points compared with passes at C or above in 2011. We are very proud of that improvement.
And yet still people keep asking for the same thing, over and over again. It's not going to happen, people. Get real. There are 8 million schoolchildren in this country and nearly 25,000 schools. That's 25,000 BSL classes that will need to be organised. This will take years even given that the Government has promised to "consider" proposals.
ATR.
It would also mean sending deaf children away again, to schools in a field somewhere, as regions don't have enough children to fill classes, and, there are no staff to make such classes viable, it would take many years to retrain such people. Wales e.g. had just TWO deaf children who required a deaf school placing. Mainstream is working not all that effective as yet but it is working. As recently highlighted, singular sign approaches can disadvantage the child's future in a world that:
(A) Does not use sign, and
(B) The user has nowhere near the interpreter support to help them,
Specialisation further isolates, a deaf community won't provide a job you need or an education you cannot afford to be without. Training the professionals up will take many years, recently, it is reported the pay isn't worth it due to massive cutbacks.
It's horse before the cart stuff, and an 'emotive' attempt to defeat mainstreaming as well as defy parental choice. Deaf child support is essential and urgent a need, but deaf politics isn't recognising the basic fact. The worst aspect is demand hasn't been shown except online, and charities are not using accurate statistics or identifying the actual deaf child demanding BSL. 60% in some classes are reputed to be CI using.
It is sad deaf activism is encouraging children online to put a case that does not appear supported widely, and the government is talking to oblivion. What next assistance dogs for BSL???
Posted by

MM
at Friday, August 03, 2018
No comments: