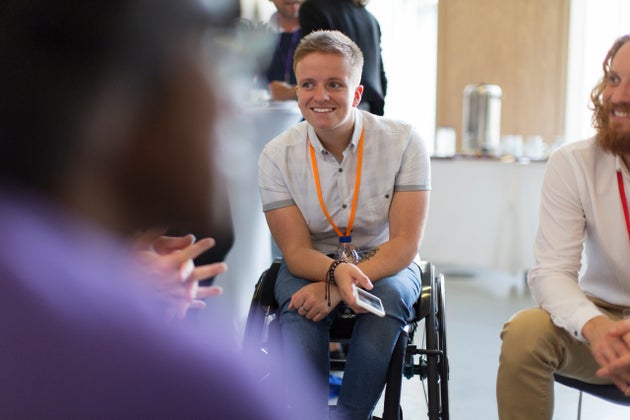 We are defined by our sensory loss, there are no two trains of thought on this since with viable hearing we would not sign, not attend 'special' schools, not require 'support staff' etc... hence no culture would exist surrounding it. The annoyance is with those who we accepted may never have had any experiences of hearing to adopt this is a norm approach, where it falls down is a further statement made its a right their culture etc, which apart from being completely wrong and is polarising deaf people.
Even born deaf can acquire CI's etc which can disprove the statements. Identifying the fact deaf people can sign too doesn't remove the reason they ARE deaf. And all deaf sign isn't true anyway. If deaf refute the suggestion of disability then, they disbar their right to the support they get FOR a disability, which includes financial/interpreter support and legal help, we haven't seen their principle stretch that far yet. You cannot be 'disabled for support purposes only'.
The Article:
We've been taught to refer to people with disabilities using person-first language, but that might be doing more harm than good.
Many disabled people consider their disabilities to be a core part of their identities. Shayla Maas is disabled. No, she doesn't mind if you call her that. "I am actually disabled. I have multiple disability conditions, including Ehlers-Danlos syndrome, so it's OK," said Maas, who hosts the podcast "Tips and Tricks on How to Be Sick."
"I am equally fine with you calling me 'person with a disability,' but don't be afraid to say the word 'disabled." In fact, Maas said it only gets weird when people dance around the word "disabled" with euphemisms like "handicapable" or "differently abled." As she put it, "If someone feels like labelling me as 'disabled' makes me less of a person in some way, that's really saying a lot about them, isn't it?" The way Maas chooses to identify herself as a disabled woman despite other people's discomfort with the word highlights an interesting cultural divide: While more and more disabled people are embracing the word "disability" and urging others to do the same with viral social media campaigns like #SayTheWord, nondisabled people are slow to catch on.
That's in part because schools, medical professionals and human resources training have long advocated for "person-first language," in which you identify the person before their disability, such as "student with autism or person with cerebral palsy. Person-first language is meant to emphasize that the person isn't defined by their disability. But as actually disabled people will you, their disabilities are a vital part of who they are.
That's why many prefer "identity-first language," in which the disability is put front and centre in the terms we use. Examples include terms like "disabled people" or "Deaf person" rather than "person with a disability." I use identity-first language because disability is inextricably linked to who I am. Emily Ladau, a disabled writer from Long Island, New York By leading with the disability rather than tacking it onto the end, you're affirming and validating the person and their disability.
"I use identity-first language because disability is inextricably linked to who I am," said Emily Ladau, a disabled writer from Long Island, New York. "Disability is part of what makes me me, and you shouldn't have to go out of your way to emphasize that I'm a person first in order to be reminded of my humanity."