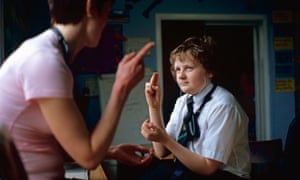 Indeed! But the TYPE of educational format is still undecided, they are still highly reluctant to adopt BSL as any primary means of language access for the deaf child and given oral tuition is proving more successful in academic terms. Here, a deaf charity uses the topical issue of a new PM in the UK to urge more investment, given the last 10 years I doubt it will happen, my own local educational areas is trying to cease supporting

SEND

e.g. The UK has no money it seems to invest in the disabled or the poor or elderly any more, and the welfare arm of the DWP is removing daily, care/support and financial assistance.
The issue with the Deaf is they are not promoting/support/access on the right grounds if they did, there 'might' be more funding going towards them. E.G. mi££ions are going towards sign promotion and cultural art awareness and little or none into basic education of the deaf child, all that is happening there are hard-line deaf activists demanding BSL for everything. What will happen is an impoverished community, at a huge disadvantage, not a vital or thriving one... and the state won't OK a signing educational approach. Not least because it affects parental choice, but essentially, there is no infrastructure, deaf schools, or trained people to make it happen. From what we read the deaf charity hasn't understood that yet...
"A new PM must help children with special educational needs They'll have to find a way of reversing cuts to staff and repairing the damage caused by years of underinvestment, says Steve Haines of a children's deaf charity.
It's heartbreaking to see that children with special educational needs are being left without the support they so desperately need (Special needs education is breaking our budgets, say councils, 19 July). Every child in this country has been promised a world-class education. Instead, they're being constantly held back because of a chronic lack of funding. The responsibility to fix it now falls to the incoming prime minister.
They'll inherit a broken system that is failing disabled children. They'll have to find a way of reversing cuts to staff and repairing the damage caused by years of underinvestment. But they'll also get the chance to have a lasting impact on the lives of over a million children. Whether they choose to take it, and how quickly they act, will show exactly what kind of leader they want to be."