Tuesday, 26 March 2019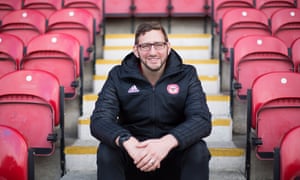 From what ATR can see even home-grown UK hearing talent is taking second place to foreign imported players. I suspect hiring a deaf player for no other purpose but he or she is deaf isn't on.
Ben Lampert, who works with Brentford and England's deaf team, wants a place for deaf players and coaches in the professional game.
Ben Lampert, who played for the England and Great Britain deaf teams, says: 'Deaf people can do anything – they just can't hear.' Ben props up an iPad on a table in a Griffin Park lounge and loads FaceTime. At the other end of the call is a British sign language (BSL) interpreter who enables Lampert, born profoundly deaf, to conduct this interview about his work as the only deaf full-time football coach in Britain.
Lampert's primary role is at Brentford FC Community Trust but he also took a job as the England deaf football team's assistant coach recently. After a 15-year playing career during which he represented England and Great Britain across the world, winning gold at the Deaflympics in Melbourne, he is helping inspire the next generation before the European Championship in Crete this summer.
Lampert's can-do attitude is clear, his mantra throughout this conversation is simply: "Why not?" In the same way that he speaks so optimistically about Brentford's chances of lifting the Championship trophy next season, he shares the positivity when asked whether there could be a deaf professional footballer in Britain any time soon. "I can't see why it can't happen, but only if the clubs are deaf aware," he says. "They have to know about the communication.
A professional deaf player would be a huge statement for the deaf community. There are deaf players out there but they just need the opportunities. The problem is that people get judged. They think you can't do it and they tend to be a bit patronising. We need to take that away and judge people on their skills and ability rather than their deafness. It is similar to foreign managers in the Premier League who cannot speak English. They have to use an interpreter to translate and it would be the same for a deaf person. If you speak Spanish, you might need an interpreter and it would be the same for deaf people. It should be possible. That is my big dream."
Posted by

MM
at Tuesday, March 26, 2019
No comments:

Seems the minister and MP have no idea despite every major police force in the UK has a text access system already! Even some with BSL access. The primary issue is no demand for a national BSL aka 999 system from the deaf. It's 'access for access sake..' rather than an unmet demand. It should also be noted Deaf have refused to register for 999 services access on the premise hearing don't have to, so why should they? Completely missing the point the police would need to know what formats they were using to assist them.