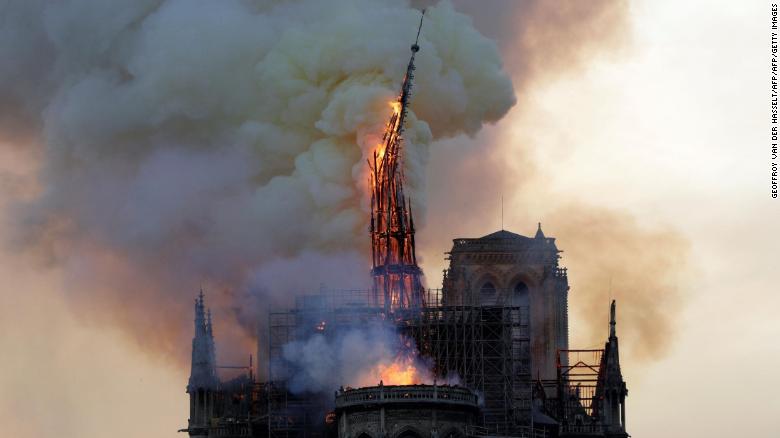 Not much money coming from the Catholic church is there? Unsurprising as they hardly pay any upkeep for their churches the state does to preserve them as historic buildings.
Any truth in the rumour they are updating Notre Dame with virtual reality? (So visitors can see what is what like when churches had a congregation). But just look at the areas throwing money at it..... Didn't the celebs and notaries of old adopt the same stance? believing if they paid for the upkeep of the church they would get good seats after they died. Far be it for us to suggest if they have money to burn (sorry for the pun), then housing the homeless, feeding the hungry, curing some cancers etc, would have got them a far better seat. Will the Pope dig into his wallet?
France's 3 richest families lead $700 million fundraising effort for Notre Dame. The steeple of the landmark Notre-Dame Cathedral collapses as the cathedral is engulfed in flames in central Paris. A fire broke out at the landmark Notre-Dame Cathedral in central Paris, potentially involving renovation works being carried out at the site, the fire service said.
The billionaires behind luxury giants LVMH Group, Kering and L'Oreal on Tuesday pledged a combined €500 million ($565 million) after a massive fire ripped through the Paris cathedral. LVMH (LVMHF) and its CEO Bernard Arnault have promised €200 million ($226 million). The donation has been matched by the Bettencourt Meyers family, which controls L'Oreal (LRLCF). The Pinault family, which operates luxury conglomerate Kering (PPRUF), has pledged €100 million ($113 million).
The three fashion dynasties have invoked patriotism and shared cultural identity in explaining their generosity following the devastating fire. Other French companies have also written big checks: The oil and gas company Total (TOT) has promised €100 million ($113 million), while tech and consulting firm Capgemini will give €1 million ($1.1 million).