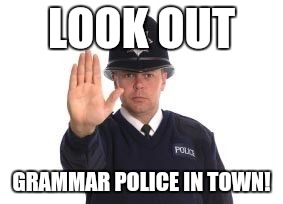 Or just the permanently pissed off snowflakes being listened to, when we should be ignoring them and throwing popcorn at them? A poster was reprimanded and his post edited by a moderator on a UK disability suite because 'You highlighted something in bold type and we don't allow shouting on our site. You are also NOT allowed to use terms like 'us', them', or, 'we' or even 'community' without a proper clarification of who you mean..' 'You cannot assume everyone disabled will understand disabled issues or awareness issues, even on this site, your assumption is suggesting what they may not agree with or even understand.'
The response was pretty scathing of that disability moderation perhaps an ultimate 'put down' of the ridiculousness of activism online, it didn't help, the poster got banned!
"Very laudable, but this is a disability site, not the UN or the home of the text police unless the site remit has changed? Of course, everyone is different. Especially disability areas who struggle with text or grammar e.g.. You are effectively preventing them from posting, or pulling them up on how they spell/post. This site isn't even accessible to those with sight issues... It is unrealistic to expect every disabled person understands every other disabled person or their issue, or the plethora (1,000s with issues of non-disabilities), I don't have the time to address them all neither do you. Of course, noting a disability site proclaiming to be disability-inclusive and aware my assumption seems perfectly legit to me. Your own reply would suggest you are using the same 'assumptions' you level at me as not on. I understand your confusion.
As regards to awareness, it's an impossible situation, awareness is unviable or impracticable to pursue in any 'group' context all have own axes to grind. Online, a lot are singular/dedicated in view and pretty much unaware or disinterested in other people's issues. I cannot be aware of everyone and everything, nor, do I have the time, just add me to your list of discriminators if it makes you happy, my shoulders can bear it. We are all fighting for survival in the UK against a government who wants us out of the way we don't need to fight ourselves as well, I can appreciate a mutual moan helps some but I don't personally buy into that, I have all the paranoia I need.
If you are preaching unity you are wasting your time, all disability sectors are doing own thing and have own areas and charities pursuing issues only they find relevant, the inclusion laws are for others it seems, your corner you fight it.
There is a 'virtual war' going on about degrees of loss, labels, language usage, medical, and issues of outright NON-acceptance of other diverse people within it, or to support them, its a microcosm of cultural or disability angst I can do without and a mad scramble to declare THIS is what we are, THIS is what we need, THIS is how to ID us or THIS is how to post... etc... We all need to accept the diversity within disabled areas first. All I can say is THIS is how I post, and as I feel able if you don't like that..."