Thursday, 29 August 2019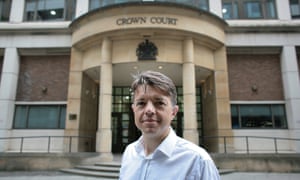 A 54-year-old technology consultant from London is believed to have established a legal landmark this month by becoming the first profoundly deaf person to sit on a jury in a crown court in England and Wales.
Matthew Johnston served on three trials during a two-week period at Blackfriars crown court, concluding last Thursday. He read subtitles from courtroom stenographers and relied on his lip-reading skills to participate in jury deliberations. Johnston has a small amount of hearing as a result of his cochlear implant, and is able to speak.
"It's all about inclusivity, isn't it," Johnston said. "It's a big thing for me … We don't want to turn our backs to society, we want to be part of society. We want to feel included. I feel great that I can be one of a jury." Deaf people have previously been denied the opportunity to serve on juries in the UK as many rely on sign language interpreters. English and Welsh law prohibits the presence in the jury deliberation room of anybody except the 12 sworn jurors, and an interpreter would be considered a disqualifying "13th stranger".
After receiving a jury summons in January, and initially having a request for a stenographer refused for lack of finances, Johnston arranged a meeting with court officials to discuss how he could still fulfil his civic duty. Johnston assured them he did not require a sign language interpreter, and also noted that the round table in the jury deliberation room would allow him to lip-read his fellow jurors.
He said: "They wanted to see me, how deaf I was, how well I could lip-read, and when they met me there was no problem."
Posted by

MM
at Thursday, August 29, 2019
No comments: