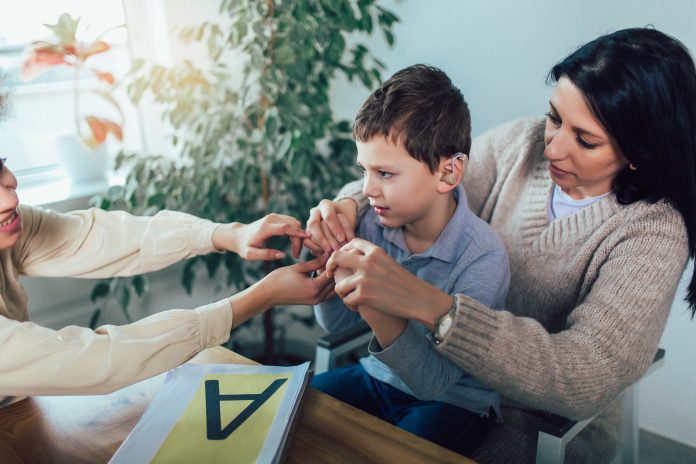 We are encouraging debate around understanding and knowledge of hearing loss and acknowledgement of how it can unnecessarily exclude people from activities which many would consider a fundamental right.
[Hearing loss and profound deafness are not viewed the same thing by cultural and signing DEAF.]
Activities such as accessing healthcare at a time and place which is convenient for them or carrying out their civic duty by serving on a Jury in a crown court. Research conducted by the NHS (2) has shown that almost three-quarters of deaf people (74%) felt that their employment opportunities were limited because of their deafness and over two thirds (68%) have felt isolated at work.
[

Limitations can also be down to poor literacy and sign language reliance, unfortunately, the mainstream of employment does not utilise sign language as a primary or even secondary medium of basic communication, its empowerment needs third parties which also affects deaf opportunity via access.

]
A lack of education and access to training is helping to keep barriers to communication in place. Our research has revealed that:
• 94% of people surveyed don't know more than two signs in BSL.


[

really? 94% of hearing, or deaf?

]
• 60% of people would like to learn to communicate better with deaf people and those with hearing loss, which is positive news we need to build upon.
[

We don't see that borne out via applications to sign classes. No surveys are validated.

]
• 61% of people feel that those who are deaf, or who have some level of hearing loss, are marginalised in society because not enough people know how to communicate with them effectively.
[

Or deaf people taught how to communicate to hearing effectively either! If they are waiting for hearing people to sign at them they are in for a lengthy wait. Deaf education is a waste of time if that's happening, in that the deaf are never taught ways of communicating to others. Do they expect they can do their own thing instead? The lack of clarity on what hearing loss and deafness entails, formats used and support available to make them effective, combined with the bias of awareness, only adds to the issue, mainstream don't know what we need unless we inform them personally, and campaigns are for A and B defined hearing loss areas, lip-reading for HoH, and sign for deaf, that misleads, in short, 'deaf awareness' only ever highlights sign awareness, NOT hearing loss awareness, charities have been polarised this way for 25 years, deaf campaigns have never lobbied on any other basis.

]
We can change this. Generally speaking, BSL, lipreading and managing hearing loss courses provide students with an incredible range of tools, indeed they can use in both their professional and personal lives. Further, deaf awareness training for friends and family members and organisations is important in improving communication with deaf and hard of hearing people. We strive to influence the UK Government and policymakers about the importance of BSL education and we welcomed the then Secretary of State for Education, Damian Hinds MP's, announcement in November 2018 that the Department for Education and Ofqual were in the process of reviewing proposals for a BSL GCSE.
[

This isn't explained properly, although demands for a BSL based education system have been highlighted, nothing happened about it, and the NDCS has voiced against, and despite BSL recognition pre 2005 by Europe the British educational system has not introduced sign as a primary educational medium for the deaf child, there is a multi-layered, holistic approach to give the deaf child the widest options

.]
Equally, we have welcomed the London Mayor's commitment to fully fund BSL Level 1 and 2 for deaf adults.
[

I wonder how many deaf adults would even attend/need such a class? BSL classes only encourage hearing people so far. Lip-reading classes attracting NO deaf adults who sign already.

Level 1 and 2 would barely gain them entrance to a deaf club. It looks like the article writer is pro-BSL and that's fine, but a deaf adult would not be in difficulty if he or she managed to get to adulthood without sign, they would have already acquired alternatives. Such low levels are not approved by Deaf charities as valid enough to support a qualification, when we take into account BSL Interpreters need level 6 and above. Its beginner stuff colours and numbers. As stated level 1/2 would not enable them to support each other.

]
I'm staggered at the low level of the awareness displayed by the article writer.
SOURCE