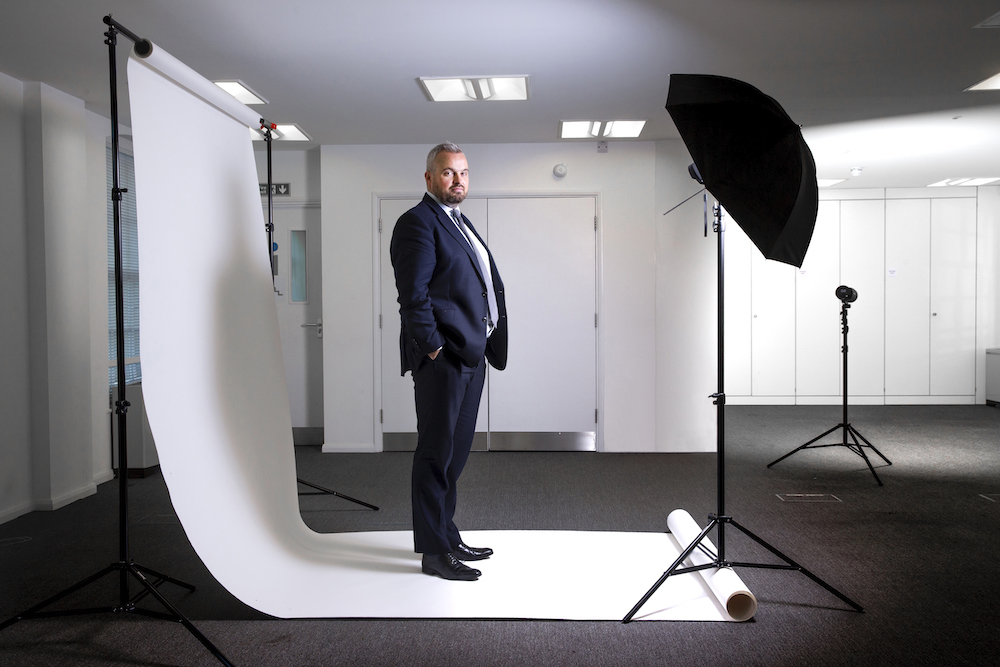 Apologies this is a long post, because we have included an entire article from AOHL. ATR response is included to save another blog doing that.

Mark Atkinson: It's staggering that a 108-year-old charity came that close to running out of cash 03 February 2020 Having overseen a radical transformation of the disability charity Scope, Atkinson is now charged with sorting out the finances of Action on Hearing Loss - and the prescription is similar, as he tells Andy Hillier "We have put significant financial controls in place"
[He told them to sell off 'Deaf' Care homes, a loss-loser]

.
Refurbished at great expense only three years ago, the Action on Hearing Loss headquarters in Highbury and Islington, north London, are in many ways the ideal offices for a national disability charity. Located just moments away from the tube station, they are packed full of the latest disability technology. Yet, just before Christmas, the offices were sold, becoming the latest cost-saving measure as the organisation seeks to balance the books after one of the most challenging periods in its 109-year history.
After several years of its spending outstripping its income, the almost unthinkable happened to Action on Hearing Loss: it nearly ran out of money as it teetered on the brink of exhausting its £3m credit limit with the bank. "We were within weeks, if not days, of running out of cash," says Mark Atkinson, who was brought on board as chief executive in October 2018 to turn around the financial situation.
[So, for 2 years he was part of the problem too?].
"We would have been unable to pay our creditors, unable to pay our staff, unable to continue as a going concern. It's quite staggering that a 108-year-old charity came that close to running out of cash." The financial situation was so bad that its auditors, PricewaterhouseCoopers, went so far as to question the charity's ability to carry on in its annual accounts in 2018. Fast-forward a year and the situation is looking considerably brighter. Its new auditors, Crowe UK, have given it a clean bill of health in its latest accounts and the cash-flow situation has "got a whole lot better", says Atkinson, who has a track record in delivering the radical transformation of charities after a three-year stint as chief executive of the disability charity Scope, during which it sold its regulated day-care services.
[So his approach was selling off disability and deaf care to private areas instead, ergo charity first, customers second.]
Atkinson says there have been two main parts to the financial recovery plan. Part one has been about following that age-old piece of financial advice, not spending more than you earn. "We've put significant financial controls in place throughout the charity," he says, pointing out that much of the overspend in recent years has been in delivering "good charitable stuff" to service users.
"We have really challenged ourselves to ensure that we're getting maximum value for every pound that we spend. "We have also relocated our finance function from London to Peterborough and are looking to relocate more out of London in a managed way," says Atkinson. Saying goodbye to Prince Andrew At the end of last year, Action on Hearing Loss was among a number of charities that parted company with patron Prince Andrew after media allegations of impropriety with young women. Atkinson describes it as "big decision" for the charity to end the relationship: the prince had been a patron since 2013.
[AOHL's relationships with the great and good has been questionable for years. Prince Phillip mocked the deaf and he had a deaf aunt, and had no idea what an ear defender was. Princess Di managed to finger-spell her name but preferred pop concerts instead.]
Going forward, he says, the charity is having conversations about what it means to be a patron now. "If you have a patron, it has to be someone with whom there's a real fit," says Atkinson, using the example of the adventurer Bear Grylls and his support of the Scouts. "It can't just be one of 300 or 400 patronages. We're going to have a debate about what that might look like for the organisation."
[Presumably meaning the mainstream are more likely to cough up for poor deafies if a celeb asks for it, or has a remote relative who is hard of hearing.]
New policies have been implemented for hiring staff as well. "We don't have a recruitment freeze in place, but we do have some rules around hiring new people," he adds.
[That policy has excluded deaf applicants from any executive or management position, less than 10% have any hearing loss and in menial positions, AOHL won't train up grassroots applicants with hearing loss for management opportunities, they only want them as volunteers, his own job came via the old boys' job network of the THIRD AGE job centre, for a bunch or retired or corporate unemployed nere do well executives desperately seeking a gong. They also offered to pay visa fees for hearing European staff too.]
Part two has required selling some of the charity's biggest assets, most notably its head office, to pay its creditors and generate additional cash. Its recently published annual accounts showed the charity had a deficit of £4.3m on an income of £39.6m at the end of March 2019. The sale of the head office will generate about £8m, which will help it to clear its £3m revolving credit facility with Lloyds Bank, pay off any outstanding mortgages and repay its creditors and suppliers. "In 2018/2019, we were paying our suppliers typically within 70 to 75 days – that's not a sustainable position," says Atkinson.
[Considerable expense is also made hiring rooms at posh hotels to spread the AOHL world, again few if any the AOHL claims to support ever attend them, focus on funding is not meaning more focus on care.]
"It meant that not only did our suppliers have to make decisions about whether or not they wanted to work with the charity, but it was also deeply inefficient because our staff were spending a lot of time on the phone dealing with suppliers who quite legitimately wanted to be paid for goods and services provided." A deal has been struck with the new buyer that allows the charity to remain in the building until September. It then intends to rent a smaller office somewhere in either north or east London.
[Why only London? the most expensive area in the UK, that is not watching the pennies is it? and, annual AGM's held in London mean few if any representatives/members from elsewhere in the UK can even attend them.]
In the intervening period, Atkinson says, he plans to spend some time asking which roles and functions need to be based in London. "We now have 50 staff in Peterborough and we think there's an opportunity to relocate more out of London," he says. "Our ability to recruit and retain skilled financial staff in Peterborough has gone really, really well." 'Difficult time' So what have the staff made of all the upheaval? Such big changes can often breed resentment between staff and senior management.
[Never responded to complaints AOHL was offering to fund visa applicants for hearing staff from Europe. So London staff don't want to go to the sticks, though, isn't hearing loss the prime issue here? And why is AOHL refusing regional autonomy? ignoring devolvement? This is AOHL in the London 'bubble' reluctant to relinquish 'power' to regions and its website is still managed from there. If he wants to save money he can offer regions their own AOHL version and let them fund themselves.]
Atkinson concedes that it has been a "difficult time". "We have been through a period of constantly trying to reduce cost, often through salami slicing away," he says. "That takes its toll on people. Our overall staff turnover is currently about 31 per cent, which is too high. I want to reduce this significantly over the course of the year." But he believes the fact that the charity has grasped the nettle and made some big decisions on strategy and future direction has given staff confidence in the future, and the organisation has not shied away from having frank conversations with them.
[His job is safe, and if not he can always go save another charity by cutting off their care options too.]
"One of the things I was quick to prioritise was having an open and honest relationship with staff," says Atkinson, who has spent most of his career working in charity communications. "In the early part of 2019, we did lots of communication with staff about the financial recovery plan and the new strategy, and tried to change the culture so that people could speak up and share ideas, spot risks and opportunities and tell us what we focus on. Staff and volunteers have responded brilliantly."
[That explains the 31% staff turnover then.]
Despite being open about the organisational challenges he has faced, Atkinson is quick to point out that his first year at the helm hasn't been all about cutting costs and selling off the family silver.
[Yes it has unless they don't value deaf care as essential.]
The charity has also worked hard on its income generation. In April, Tim Willett, formerly a senior fundraiser at the lifeboat charity the RNLI, was brought on board to oversee fundraising and comms. The move has gone well. Atkinson says that Action on Hearing Loss is on course to have its best-ever fundraising year and is currently on track to post a £500,000 surplus in the coming financial year. "That will be the first time in about 10 years that the charity will have made an operating surplus, and I think that it's important as part of our financial recovery plan," he says. However, he's acutely aware that it needs to do more.
[Indeed, London prices are unlikely to go lower are they?].
"Like lots of other organisations, we're heavily reliant on certain types of income," he says. "There's a challenge to diversify our voluntary fundraised income. We are on course for our best legacy performance in a decade, but we are also too dependent on that income." Now, Atkinson says, the charity wants to invest in long-term relationships with supporters who believe in its vision and purpose, and who want to support it through their own ways and means.
[That would be a revelation (allowing grassroots to have a say, given they closed down all feedback to themselves on social media and on their own website).]
"There has been an emphasis on volume rather than quality of support," he says. "What I'm keen to do is make sure we have a really compelling reason for people across the country to support this charity in whatever way they choose: by volunteering for us, for example, and by raising money or by supporting our campaigns."
[Volunteering mostly as this cost them nothing but HE doesn't work for free.]
Crucial to the future will be the organisation viewing itself as more of a mass-market brand.
[Those with deafness and loss are a 'brand' to be sold now? Or is he talking about the horrific pink mess that was the last re-brand the AOHL did? the one that cost £100s of £1,000s and then back-peddled because it suggested they were abandoning the royals? Is it the AOHL? or is the RNID?]
There are about 12 million people in the UK with some form of hearing loss or tinnitus, and Atkinson believes it needs to be reaching more of them. The strategic challenge, he says, is to channel more energy into activities that reach a larger number of people. In essence, this means Action on Hearing Loss plans to focus on three key areas. First, campaigning for improvements, which includes holding policymakers to account, influencing public attitudes and making sure markets work better for people who have hearing loss. Second, it wants to be a place people can turn to for advice and information about hearing loss, deafness or tinnitus. And, third, it wants to invest in treatments to help those with hearing-related conditions Transferring services Controversially, it will also follow the lead of Atkinson's previous employer, Scope, by moving the charity away from being a direct provider of social care by transferring services to another provider in 2020.
[And maintaining a neutral issue in regards to confronting areas that offer discriminations at us all, including some of its major corporate donors.]
Action on Hearing Loss's social care services currently support about 560 people and employ some 600 staff, about two-thirds of its current overall headcount. They also account for £17.5m – almost 45 per cent – of its current annual income. "We did something similar when I was at Scope, and the disability charity Leonard Cheshire has done something similar recently too," says Atkinson. "It's significant for us because we started providing residential care services for people who are deaf in 1929. We do it exceptionally well." But although the charity recognises the difference these services make to those who use them, he says, they support only 560 people.
[They had been cutting real support for years, the AOHL seems tobe adopting an image approach as averse to a supportive one, despite the deaf leaving this charity many years ago in disgust.]
"In order to make this organisation have greater reach, we came to the conclusion that we should move out of being a direct provider of care services so we could focus our efforts on campaigning, advising and connecting deaf people," says Atkinson.
[Perhaps the biggest lie he is telling, AOHL has never been happy or willing in confronting the system as it relies on them for the work it does get and the kudos and voice it brings. It's pathetic 'rewards' system to donor areas is cringeworthy e.g.]
Traditionally, large disability charities have chased organisational growth, arguing that the bigger they become the more impact they can have on those they support. However, Atkinson believes this approach has done a "huge" amount of damage to the disability movement, leading it to focus on scale and trying to "hoover up contracts", often from smaller, local charities.
[Yes other charities twigged, that the AOHL's involvement was to 'hoover up' profitable aspects of other charities and do it themselves, and also by head-hunting the more able from smaller charities so they folded, in essence, AOHL was/is a charitable asset-stripping machine. The ones that failed to realise they were being set up failed. AOHL continues today to dominate meetings and relationships with other loss charities and continues to undermine them too.]
He wants Action on Hearing Loss to have a different type of relationship with other charities that support those with hearing loss. "I'm not driven by turnover," says Atkinson. "I'm driven by reach and impact. If that means acting as a collaborator with organisations so that we can achieve our purpose in a quicker or better way, then I'm up for that." Atkinson is rapidly forging a reputation as an organisational change specialist after his exploits at both Scope and now Action on Hearing Loss.
He acknowledges that he enjoys working with organisations "where there's an appetite for change and doing things differently", but that doesn't necessarily mean he is motivated only by big turnarounds, or that he plans to jump ship once the big decisions have been made. "I've been here for 14 months," he says. "We're now in a much stronger financial position, we're launching a new strategy and moving head office.
"Towards the end of my time at Scope, I felt that the next phase of its journey required a different leader and different style of leadership. We'll get to a similar situation here. But I feel like I have several more years here before then." Nevertheless, he says, he does challenge himself on whether he wants to oversee another radical transformation. "It is exhausting," he concedes. "Not just for me but the people around me. "I do wonder whether I want to join a more stable platform in the future."
[He is advertising, if this goes belly up then I'm available.. so is he telling it all?]
ATR: AOHL's real strength is in that the systems and indeed other charities concerned with loss rely on the statistics AOHL provides they all quote the same ones, also said systems listen when AOHL talks because AOHL moves in the 'right circles', but this is a double-edged sword, in that using that influence to make it clear HoH support issues and deaf rights are non-negotiable, puts them at odds with their funders, only when they bite the bullet will any of us with hearing loss respect anything the AOHL says or does.
Unfortunately in all the article coverage, we have reprinted here has he actually mentioned in any depth, US. The irony is in his time at SCOPE he was part of a quite contentional media approach that actually forced people to confront their disabled prejudice, but it is not an approach he will take at AOHL to make mainstream aware their prejudice is still with the deaf and others with hearing loss. He needs to confront deaf areas on their sales pitch too, that is the strength of AOHL, people would have to listen.
All he is concerned with is his bean-counting and saving money, and protecting the 'image', an image increasingly NOT based on its involvement with grassroots and over-focused in ensuring they stay in London, if they want to save money move out, they have invented all sorts of alternatives now, computers, cars, buses, trains, networking, streaming online etc... you don't actually need to live there. After Brexit London needs to learn the lesson.
They won't get the Deaf support back, cutting loose care homes has put another nail in that coffin. HoH are the most membership-wise but in regards to their support and rights AOHL hasn't moved that forward in 30 years there has been no campaign of any note coming from AOHL or, from the HoH themselves. Currently, progress is non-extant unless obsession with ear wax is your bag. We have all moved away from the random care via charity approaches to a more rights-based demand set up and AOHL stands in the way now.

It is a puzzle why it has taken so long for them to realise charity isn't some sort of grassroot-run and hearing-loss friendly 'NHS alternative' and they were duped by the system, who offloaded expense (And thus blame!), onto them, now AOHL like others is dumping that care like a hot potato. Initially, AOHL made a killing being the largest receptor of the funding, but the good times ended as they were bound to do. But guess who is really struggling now? It isn't the AOHL is it?