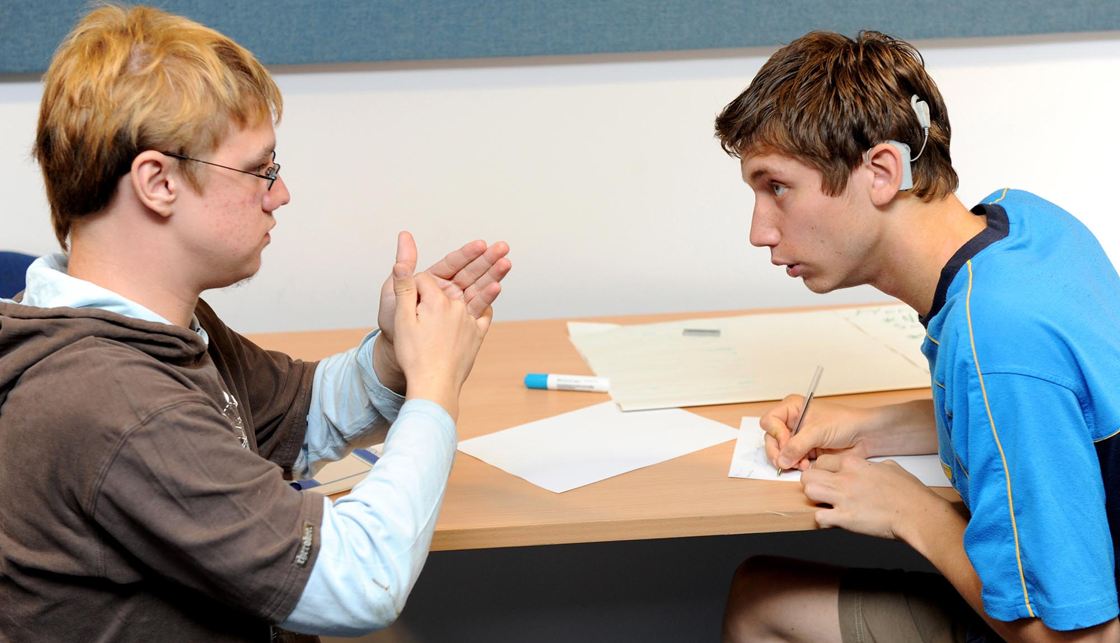 UCL HomeAccess and Widening ParticipationParentsSupporting your young D/deaf person's journey to university.
Supporting your young D/deaf person's journey to university Join us on Tuesday 7 April, 4pm-7.30pm at UCL for an evening information session which will provide a valuable insight into how to ensure your young person can access university, and to understand the support on offer once they arrive.
The programme is being delivered in collaboration with The Deafness Cognition and Language Centre (DCAL), based at UCL. You can find out more about DCAL on the UCL website. We will host a panel discussion with a Q&A, including current and former D/deaf students from UCL and we will have presentations on key information including UCAS applications, student finance and disability support. The event is free to attend and suitable for parents/carers of young D/deaf people aged between 14-19. BSL-English interpreting and speech-to-text reporting will be available.
ATR: We recall a young deaf man in London who had full support in training up in law at university via sign language, it cost near £200K for one year in note-taking and BSL support, a staggering amount of money. He failed to pass. More recently, the A-2-Work allowance has been upped to a near-maximum of £1,000 a week for deaf seeking a job.
It's rather a worry all this money and support is being put out with little or no tangible benefit. The debate is not so much about support in Uni, but if levels of entry qualification are sufficient to identify if a student can actually progress with that support.
Universities are saying that student applications they received, displayed a lack of sufficient literacy by deaf and HoH students to follow courses adequately and it was making tuition difficult and they wanted entry papers more stringent but were being blocked by rights groups/politicians etc calling it discriminatory, especially the sign users who say they are demanding English not BSL qualifications.
ATR attended a FE college with no support at ALL as a deaf adult. But for support from classmates, I would have left after 2 weeks, instead, I stayed the full course and passed with that help the classmates took notes for me. While the activists are repeating rights demands they are ignoring some realism in that the established special need pre-educational approaches to the University, fail to arm them with the basic means to benefit from a university education. In essence, a basic issue of reading or understanding the coursework.
In those respects even support to follow was problematic, universities had to create literacy courses to help enable, and even there rights groups objected to the formats, and the language. The sole activist response was to cry foul.