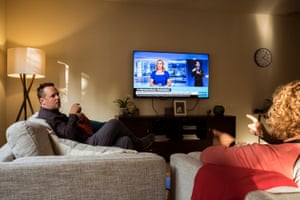 From the absence of Auslan interpreters on TV to the struggle to adapt to life without face-to-face communication, the pandemic has posed unexpected challenges for the deaf community.
Gavin Balharrie, the president of Expression Australia, a deaf services provider. Being deaf during the coronavirus pandemic has brought a fresh set of challenges for him and his wife, Trisha, who is also deaf. He and his wife, Trish, who is also deaf, 'are really looking forward to [coronavirus] being over'.
Even before isolation, Gavin Balharrie was used to feeling isolated. It's a side effect of being deaf in a hearing world. "In a way [the deaf community] has been preparing for this our whole lives," he says. "There have always been barriers for us, so we are kind of used to it." There were plenty of extra barriers for Balharrie as the Covid-19 pandemic hit Australia.
The first hurdle was just getting information, as Auslan interpreters weren't initially common at press conferences. 'A huge hit': Balharrie is the president of the deaf services provider Expression Australia, so professionally this worried him, but personally he also knew how dangerous it can be to be left in the dark. On 30 December last year, his family was in Mallacoota, in eastern Victoria, with a bushfire raging towards the town, and no idea if they should stay or leave.
For hearing people, figuring out the seriousness of a situation is as easy as turning on the radio or TV, but Balharrie and his wife Trisha didn't have that option. They are both deaf, and none of the local broadcasts had an Auslan interpreter. "There was information available in English, written out or in apps, but it's hard to understand the gravitas. The emotions are removed from it," he says. Gavin and Trisha Balharrie discuss news on the coronavirus using sign language and the assistance of an on-screen Auslan translator onscreen.
Gavin and Trisha Balharrie watch the news using the assistance of an on-screen Auslan translator. Photograph: Christopher Hopkins/The Guardian Their 10-year-old daughter can hear, but they are careful never to place the burden of an interpreter on her. Coronavirus: the week explained - sign up for our email newsletter
Balharrie recorded the local broadcast on his phone and managed to find a translator to send it to. When they got the video back 30 minutes later, they knew straight away they had to get out of there. "You could see the CFA [Country Fire Authority] walking around but, you know, it was still a beautiful day, the sun was shining, the kids were still playing. I don't think we were quite cognisant of how serious the situation was until we got that information in Auslan."