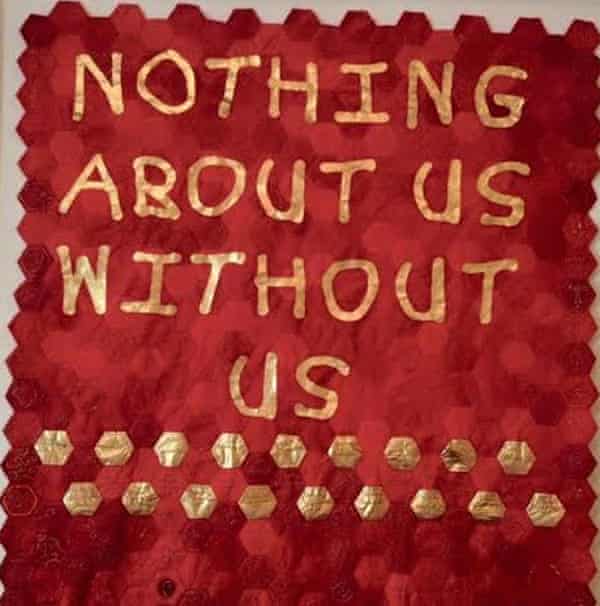 Can we not just meet people halfway over this Deaf-deaf thing? (I'm an obsessive problem-solver, so feel free to ignore any suggestions or solutions I offer, even if they sound terribly insistent.)
It's a situation perhaps only time will solve. As you say the current view of equality means doing your own thing your own way and this tends to prevent that really happening for others, it's about seeing the 'big picture'.
To paraphrase an old Frank Sinatra song 'oops there goes another rubber tree plant.' in that it was my view if you stuck to your point and chip away eventually you have to get there in the end and topple that tower. I don't see it as an assault on freedom of choice, mostly because I don't believe choice or preference has much to do with it. It's more about money, funding or politics and inflating the ego to some extent. Lots of people not knowing who they are, many in denial, and chasing another ID hoping it fits them, they failed to see the price of it.
I don't know anyone who prefers disability, lots who manage it, but that is not the same thing. I do read there are people who 'prefer' to be deaf, blind or wheelchair-bound, I Just think there is a side issue of mental health there or desperation to justify what is an issue they couldn't avoid anyway and don't need to.
There was a group in the UK and USA who deliberately deafened themselves because they 'envied' the Deaf community ethos and closeness they have. I did a blog at the time where I infiltrated that group and saw advice on 'how to make yourself deaf by sticking knitting needles in your ear, or pouring bleach into it..' etc.
Which I considered was more a mental health issue than a desire to break down isolation by 'being one of them.' What can we do about it? deafness or other disabilities are, so just get on with it, which most do anyway. Looking at the bigger picture again that tends to mean coping/managing your issue you can assume nothing much can be done about it. Coping then becomes a justification for all sorts.
Some deaf areas took it a step further declared not being able to hear was a right etc and started to attack or undermine others who sought out cochlear implants or hearing aids or promoted oral approaches to alleviating hearing loss, they justified attacking other people's 'choice' (Or the parents choice), by saying it demeaned them and their culture.
It's the line they are not allowed to cross. They are entitled to a view no matter how genuine/obscure it is, but, they cannot go at other people's. Do no harm to others. Obviously, the Deaf can bring in 'heavy PR weaponry' then by throwing disability discrimination claims about, (despite not accepting that description of their own issue), or you are going at their culture by default as they don't see the difference.
You could say "But you have an interpreter,' and get attacked for stating that observation because that suggests a reliance and again they don't see their support that way, or even it IS support. I have never seen them able to defend that outside their own closed areas and social aspect because seeing is believing with the mainstream. They are using 'help' or 'support' or 'cannot communicate on their own', so the disabled/deprived image follows and difficult to alter then.
The other elephant in the room are the other deaf and those hard of hearing, currently playing lip-service whatever they do because they cannot be bothered to challenge the fact the Deaf promotions are undermining support for them or anyone takes any notice in the HoH area.
They tend occasionally to run scared of being accused of some discrimination or other, so 'cest la vie' rules and stand well clear seems to be the order of the day. It's humouring and to some extent patronising them. I never chose to do that but to challenge the fact promoting isolation as a necessary norm to protect culture e.g. is undermining equality access and integration, it impoverishes culture too.
Awareness is done by rote, a lottery, complete chaos and unfocused, with no real desire to take advantage of any door currently closed being opened for them. If it is they can demand where that door leads to and usually, that is back where they started from.
Many deaf have no time at all for the nonsense as managing their daily lives takes higher priority. I think most is online and done by people who barely rely on sign at all or are able to function in hearing and deaf situations without much issue, the tail is wagging the dog there are jobs and money in playing the victim. Recent closures of deaf culture charities and support charities for the deaf has shown such people are wasting huge amounts of disability funding and undermining support for their own too.
ELDS saw 130 deaf left with no cover after the charity was found financially incapable of running its own deaf support, with own deaf people, 70 deaf staff they offered jobs too, lost them, the BDA saw ALL their trustees resigning, and their membership plummeting, and they still run that charity on some feudal based system threatening members with legal action if they disclose how that charity is run (Which is pretty badly). Culture keeps picking up their bills. The RNID/AOHL sold off their deaf care and assistive device market and now go for the cure dropping all pretence of maintaining this road to nowhere.
It suggests the emphatic over-focus on the cultural aspect has overridden common sense and created neglect of duty and care to the deaf. I complained to my MP that culture should not be recognised as a charity at all, also that any area setting up a charity has to provide proof of a capability to run it and for a cause that is recognisable and not already there. You would think that is a norm, it isn't.
We know the CC is a government arm in reality and they are quite happy to let disabled, deaf, whoever, screw it all up for themselves, then blame then doesn't go their way, it's still cheaper than the state running things, dutifully the deaf are obliging by being consistently inconsistent. Charities that try to emulate a system the government and health authorities abandoned years ago should be closed, and state care returned again. At least to some extent a system can be accountable.
It is an admittance we have made a mess of it ourselves and it has allowed care to deteriorate not improve. Deaf and HoH charities blew it. Without the clout of culture the Deaf would have lost everything too. The equality laws are unviable. Having been at the launch of the original back in the 1990s I knew then the acceptance of the '90s Act was a sell-out.
We wanted to stick to our guns, our charities wanted the funding and saw a way to run care, so they accepted the law watered down on our behalf, we lost because Deaf and deaf don't support each other and any house divided has to fail. The Deaf also failed to support the disabled who created the Act. They moved immediately after to take advantage of bits of it.
All I am seeing are re-runs of issues the Act was supposed to have addressed 20 years ago. The state divided the disabled and the amateurs moved in to screw it all up, setting themselves up as 'experts'. It's one thing having disability experience but it doesn't mean you can run a support system for others with differing experiences, so they 'specialised'.
The specialisation was only possible by default discrminating against others who didn't have your issue even if there were similarities. Each to his or her own. What a complete mess we have made of it all, £millions down the drain and virtually little progress either.